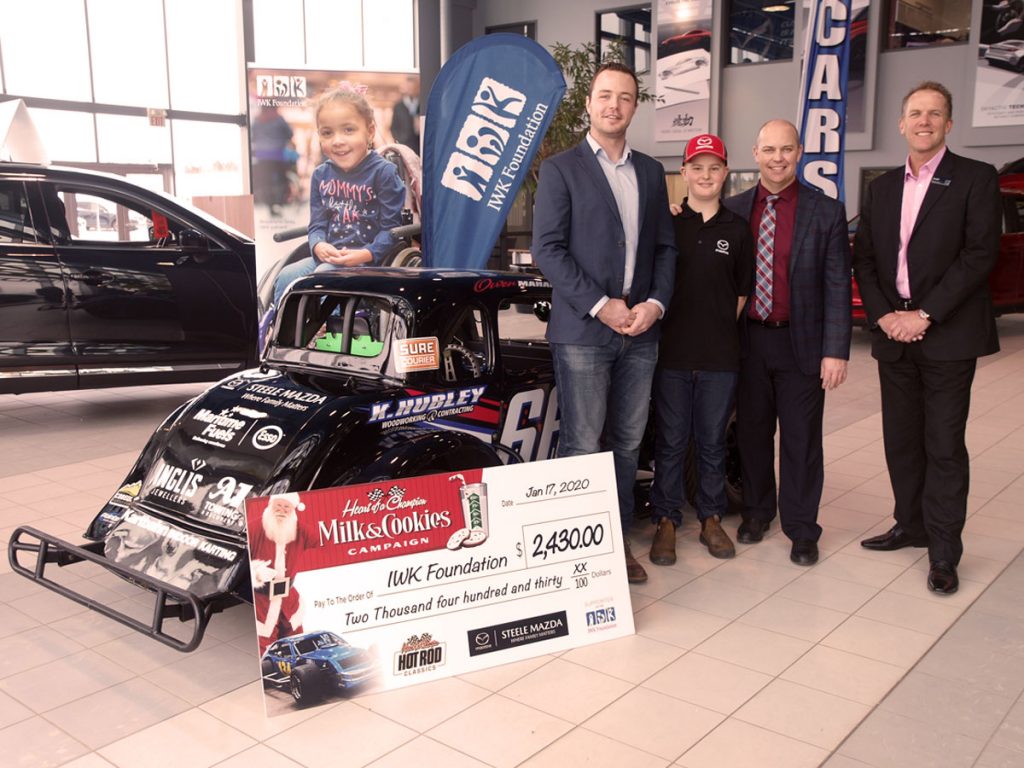 Organizers for Heart of a Champion were pleased to present a cheque for $2,430.00 to the IWK Foundation today as a result of December's Milk & Cookies fundraising campaign.
Contributions to the fund came from an online auction hosted by Heart of a Champion (HOAC), donations from HOAC sponsor Steele Mazda, donations from HOAC followers, and coin box collections at Steele Mazda.
"We are pleased to be part of this very special partnership with Heart of a Champion and Steele Mazda," says Keely Wallace, Manager of Community and Corporate Giving at the IWK Foundation. "The Milk & Cookies campaign highlights just how much these two organizations care deeply about the patients at the IWK and helping them ensure they receive nothing less than the best care. For that, we are incredibly grateful."
The Milk & Cookies campaign funds are designated to help families in the IWK Health Centre over Christmas have a better holiday.
Heart of a Champion wishes to thank everyone who supported the campaign, including our followers and sponsor, Steele Mazda, as well as those that generously donated items for the silent auction: CARQUEST Auto Parts, CheckersToWreckers.com, Greenfield Dragway, Greg Sewart, Riverside International Speedway, Scotia Speedworld, Scotia Tire, and Steele Mazda.
The Milk & Cookies campaign is part of Heart of a Champion's ongoing effort to raise awareness and funds for the IWK Foundation.
About Steele Mazda
Steele Mazda is a full-service new and used Mazda dealership located in Dartmouth, Nova Scotia. Their sales team is eager to discuss your driving needs, wants, and budget. They will happily guide you through the buying process with sleek and affordable options for your new or previously owned vehicle, from the test drive to the loan approval process. The Steele Mazda service department welcomes customers from throughout HRM, keeping your ride healthy by handling oil changes, tire rotations, and any other repair or maintenance work you may require. Steele Mazda prides itself with its exceptional customer service; test drive us today! For more information, please call 902-462-6600, stop by our store at 15 Lansing Drive in Dartmouth or visit www.steelemazda.ca.
About the IWK Foundation
The IWK Foundation is a champion of excellence in women's and children's health and medicine and works in partnership with the IWK Health Centre to support their vision of providing quality care to women, children, youth and families in the Maritime Provinces and beyond. Our donors are passionately committed to making a difference for Maritime families, contributing more than $15 million in support of the most urgent care priorities at the IWK last year. Funds raised also support the IWK's global leadership in research and knowledge sharing, which in turn improves lives worldwide. For more information, visit www.iwkfoundation.org.
About Heart of a Champion
Heart of a Champion is dedicated to preserving Maritime motorsports history by rekindling memories for veteran fans and educating new fans about the people and events that have helped shape motorsports in the region. To accomplish this, they use static and interactive mediums and in 2020 will launch the region's first-ever vintage race car series, the Hot Rod Classics. To learn more please visit www.heartofa champ.ca.