The Heart of a Champion Milk & Cookies fundraising campaign with proceeds benefitting the IWK Foundation kicks off today and lasts through the end of December. The campaign is targeted toward raising funds to help patients in the IWK Health Centre over the Christmas season enjoy a better holiday.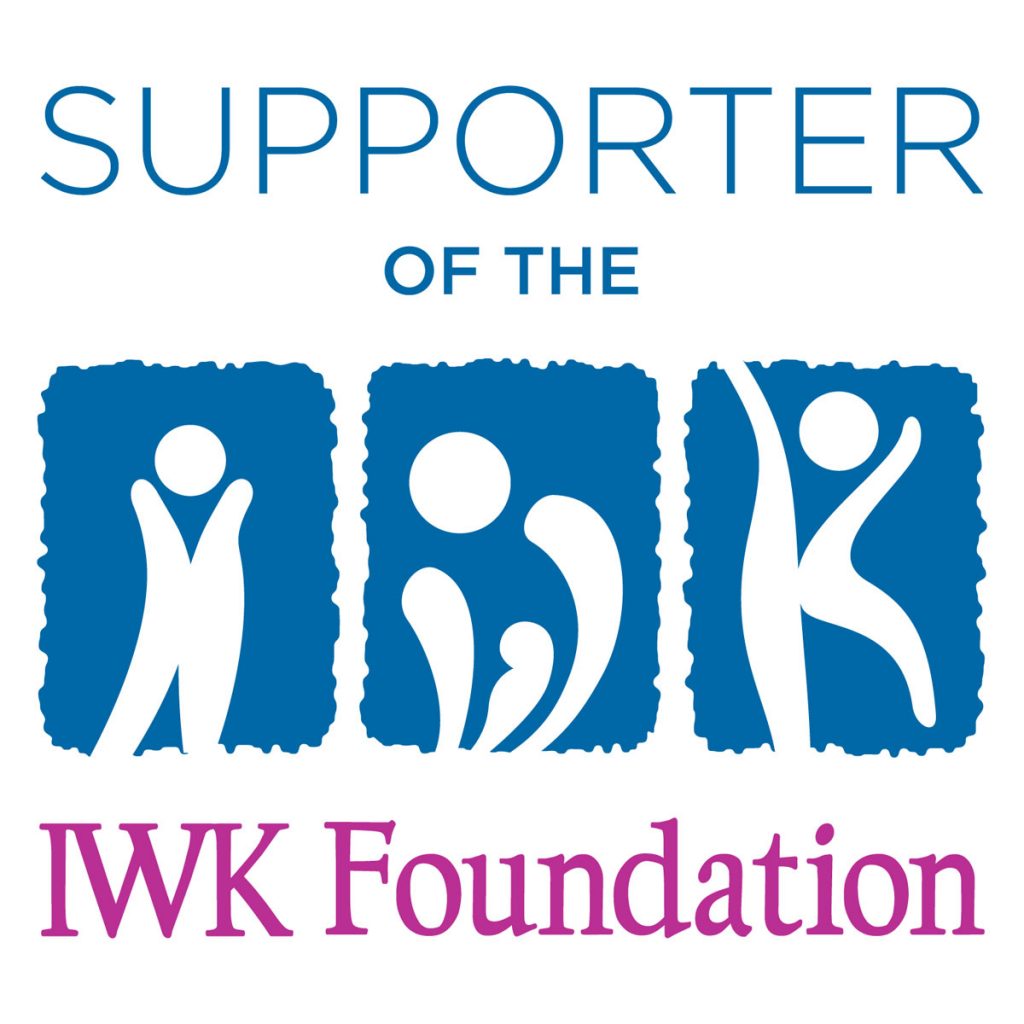 Heart of a Champion will host a unique online Milk & Cookies Silent Auction with 100% of the proceeds benefitting the IWK Foundation. Items will include motorsports memorabilia as well as items of interest to the general public. Items and bidding details will be posted at HeartofaChampion.ca by December 8; the auction will close December 15, in plenty of time for Christmas giving.
Steele Mazda, a longtime sponsor of Heart of a Champion, has joined the Milk & Cookies effort in a big way by donating $2 to the IWK Foundation from every sales, service, and parts transaction in December, as well as in promoting the campaign to its customers and staff through mainstream and social media.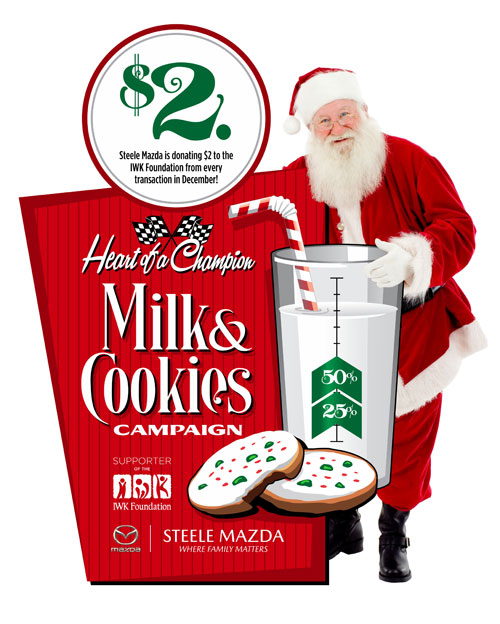 And, Steele Mazda has enhanced its already festive holiday decor with special Milk & Cookies and IWK Foundation branding. The showroom at the Dartmouth dealership has been transformed into a winter wonderland complete with a giant 20′ real Christmas tree. Motorsports fans will find a Legends race car on display and kids of all ages will enjoy a special exhibit by the Dartmouth Model Railroad Club from December 14 to 31, with members presenting an unforgettable fully-operational live model train show at select times over the two-week span.
Additionally, those who wish to provide even more help to Maritime families at the IWK Health Centre over the Christmas holiday can donate directly to the Milk & Cookies campaign here, or by contributing to the IWK collection boxes at Steele Mazda.
Heart of a Champion was founded in 2017 to help preserve Maritime motorsports heritage. Organizers used a 1967 vintage stock car they had restored to rekindle memories with veteran fans and to educate new fans, showing the car at motorsports events throughout the Maritimes. At the same time, they launched a basic website and a Facebook page, using it to share vintage racing photos, stories, and a weekly 'Saturday Salute' to someone who has helped build racing in our region – someone with the Heart of a Champion.
In 2018 they acquired a vintage open wheel modified race car. In 2019 they used it to garner interest in the potential for a vintage race car series in the region and in July announced their intent to form the HOAC Hot Rod Classics Vintage Race Car Series, to debut in 2020. This past October, HOAC announced an affiliation with the IWK Foundation as an awareness and fundraising partner.
Since its inception in the summer of 2017, HOAC's social media following has flourished to over 6,100 – clearly demonstrating an interest in and passion for Maritime motorsports heritage.

About Steele Mazda
Steele Mazda is a full-service new and used Mazda dealership located in Dartmouth, Nova Scotia. Their sales team is eager to discuss your driving needs, wants, and budget. They will happily guide you through the buying process with sleek and affordable options for your new or previously owned vehicle, from the test drive to the loan approval process. The Steele Mazda service department welcomes customers from throughout HRM, keeping your ride healthy by handling oil changes, tire rotations, and any other repair or maintenance work you may require. Steele Mazda prides itself with its exceptional customer service; test drive us today! For more information, please call 902-462-6600, stop by our store at 15 Lansing Drive in Dartmouth or visit www.steelemazda.ca.
About the IWK Foundation
The IWK Foundation is a champion of excellence in women's and children's health and medicine and works in partnership with the IWK Health Centre to support their vision of providing quality care to women, children, youth and families in the Maritime Provinces and beyond. Our donors are passionately committed to making a difference for Maritime families, contributing more than $15 million in support of the most urgent care priorities at the IWK last year. Funds raised also support the IWK's global leadership in research and knowledge sharing, which in turn improves lives worldwide. For more information, visit www.iwkfoundation.org.
About Heart of a Champion
Heart of a Champion is dedicated to preserving Maritime motorsports heritage by rekindling memories for veteran fans and educating new fans about the people and events that have helped shape motorsports in the region. To accomplish this, they use static and interactive mediums and in 2020 will launch the region's first-ever vintage race car series, the Hot Rod Classics. To learn more please visit www.heartofachampion.ca or www.hotrodclassics.ca. Fans can also follow Heart of a Champion on Facebook and YouTube.