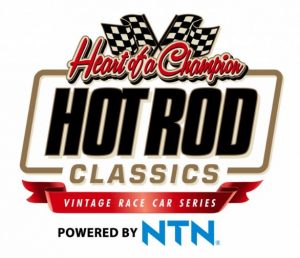 Cy Harvey (Elmsdale, NS) became the inaugural Hot Rod Classics Powered by NTN (HRC) race winner at Petty International Raceway on Saturday evening as part of the historical Jones Auto Body River Glade International event. Harvey took the lead on lap two of the Subaru of Moncton 20-lap feature and held on for the win. Patrick Horne (Lawrencetown, NS) finished second and Jim Rankin (Mount Uniacke, NS) was third. The top three cars finished nose-to-tail as Horne and Rankin closed in on Harvey in the waning laps.
Harvey and his No. 49 1949 Chevy Coupe also took the checkered flag in the Hot Rod Classics Powered by NTN heat race.
Subaru of Moncton Feature Race Results – Hot Rod Classics Powered by NTN
#49 – Cy Harvey, Elmsdale, NS
# 28 – Patrick Horne, Lawrencetown, NS
#63 – Jim Rankin, Mount Uniacke, NS
#10 – Ron Hefler, Mahone Bay, NS
#28 – Maurice Horne, Lawrencetown, NS
#134 – Patty Lawrence, Dartmouth, NS
#12 – Byron Bartlett, Rothesay, NB
The series is back on track September 19 with its condensed 2020 season (due to COVID-19) as part of the Mike Stevens Memorial Weekend at Petty International Raceway.
Fans who wish to show their support for HRC and our Maritime motorsports heritage can purchase series-branded hats, t-shirts, and more by visiting The General Store at www.heartofachampion.ca. A portion of all General Store sales benefits the IWK Foundation.
The Hot Rod Classics Powered by NTN is the first vintage stock car racing series in eastern Canada; vintage racing is the fastest-growing division in North American motorsports. HRC showcases race cars from 1980 or older – some original, some rebuilt, and some newly built – allowing veteran fans to relive precious memories and at the same time providing a forum where newer fans can experience race cars of a bygone era.
Since its launch in mid-2017, Heart of a Champion's social media following has flourished to over 8,800 with a weekly reach approaching 100,000 – clearly demonstrating an interest in and passion for our Maritime motorsports heritage.
Heart of a Champion was founded in 2017 to help preserve Maritime motorsports heritage. Organizers used a 1967 vintage stock car they had restored to rekindle memories with veteran fans and to educate new fans, showing the car at motorsports events throughout the Maritimes. At the same time launched a website and a Facebook page, using it to share vintage racing photos, stories, and a weekly 'Saturday Salute' to someone who has helped build motorsports in our region – someone with the Heart of a Champion. In 2018 the group acquired a vintage open wheel modified race car. In 2019 they used it to garner interest in the potential for a vintage race car series in the region and in July 2019 announced their intent to form the HOAC Hot Rod Classics Vintage Race Car Series. In the fall of 2019, HOAC announced an affiliation with the IWK Foundation as an awareness and fundraising partner.
About Petty International Raceway:
Petty International Raceway is located on Highway 106, just 40 km west of Moncton, New Brunswick. To learn more about Petty International Raceway, please visit www.pettyraceway.com.
About NTN
Founded in 1918, NTN is one of the world's largest producers of premium quality ball and roller bearings, long recognized for the most stringent quality standards in the industry. With plants around the globe and a strong domestic manufacturing network, over 80% of the products sold by NTN in North America are made by one of the 10 plants the company operates in Canada and the USA. NTN is also a leading provider of bearing services which include technical support, maintenance and reliability services, engineering consulting and training. NTN's company vision is "to transform into Canada's leader of the Ultimate Bearing Experience." For more information, please visit www.ntn.ca.
About Heart of a Champion
Heart of a Champion is dedicated to preserving Maritime motorsports heritage by rekindling memories for veteran fans and educating new fans about the people and events that have helped shape motorsports in the region. To accomplish this, they use static and interactive mediums and in 2020 will launch the region's first-ever vintage race car series, the Hot Rod Classics. To learn more please visit www.heartofachampion.ca or www.hotrodclassics.ca. Fans can also follow Heart of a Champion on Facebook and YouTube.